Over the last decade, administrators at Cazenovia Central School District have watched fewer students graduate as seniors and even fewer register as kindergartners.
Declining enrollment has become a large issue for local schools, and the district has begun to examine ways to reverse the trend and increase the number of younger families that move to Cazenovia.
"In the last nine years, we've dropped 200 kids … We're in the same position everyone else is, in the sense of finances. But the double-whammy to us is growth. In Madison County, we were 12th out of 20 on our tax-base growth for 2011," said CCSD Superintendent Bob Dubik. "[Cazenovia] is a perfect place for people to raise their families. It's a safe, beautiful, charming community. We think that we're doing our part to continue the tradition of excellence and education … and we want people to move to our community. Once they're here, we have them."
In Dubik's nine years as superintendent, he has seen lower numbers of incoming students every year, except for 2008, when 20 students joined the district. In 2003, CCSD boasted 1807 pupils in grades Kindergarten through 12, this year, 1603 students are enrolled in the district's three academic buildings.
From 1987 to 1995, the district saw an increase in the number of incoming students each year. In 2008, a total of 161 seniors graduated, which was one of the largest classes to pass through the halls of Cazenovia High School.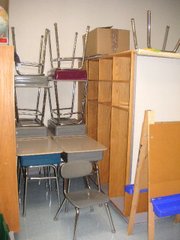 This year, Burton Street Elementary welcomed 90 Kindergartners, and 138 seniors are slated to graduate in June. Dubik said the district is expecting just 80 incoming Kindergarteners the next year — and when the 139 members of the current junior class graduates in 2013-14, only 70 Kindergarteners are expected to enter the district.
Dubik and the board of education also keep a close eye on the live-birth rates from the area, in order to gauge future numbers of incoming students. Although about 64 children that live within district lines are home schooled and 88 attend private schools, he said the numbers are inconsequential because the ages range throughout all grades.
(Continued on Next Page)
Prev Next
Vote on this Story by clicking on the Icon
More like this story