Baldwinsville — Utica chanteuse Julie Falatico will wrap her honey-smooth voice around tunes from the Great American Songbook at noon on Sunday, Jan. 29, to open the January JazzFest at Mohegan Manor, 28 Oswego St. in Baldwinsville. She and her accomplished accompanist, guitarist Joe Ferlo, will perform for the festival's jazz brunch.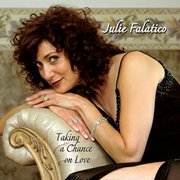 Later, at 2 and 4 p.m., the classy Manor adopts a roadhouse persona as guest horn players bolster a performance by the Syracuse Bluesfest "SOS" Blues Band All-Stars.
Over the course of the day, from noon to 9 p.m., many of the best jazz musicians and vocalists from CNY will be showcased at the mid-winter festival hosted by CNYJazz Central. Since that's the weekend before Super Bowl Sunday, Mohegan Manor hopes to draw a big crowd to B'ville on the 29th.
Sunday's jazzfest features headliners Chris Vadala, a versatile saxman from Poughkeepsie, and scat singer Nancy Kelly from Fair Haven as well as Jeff Stockham & The Jazz Police, Grupo Pagan, Liverpool guitarist Tom Bronzetti and the Bill Horrace Trio.
Ticket prices for the January JazzFest range from $25 to $45; moheganmanor.com; 479-JAZZ.
At the noon brunch, Falatico will channel the talents of tunesmiths such as Hoagy Carmichael, Cole Porter and George Gershwin. Falatico released her debut disc, "Taking a Chance on Love," in 2009.
The 10-track CD, produced by Baldwinsville bassist Matt Vacanti, includes tunes such as Carmichael's "The Nearness of You," Porter's "Night and Day" and Gershwin's "Someone to Watch over Me."
For the past 10 years, Falatico has entertained audiences at upscale spots such as Grimaldi's Restaurant and Gabriel's Trattoria. On the disc, her warm, sultry voice blends seamlessly with Ferlo's super-smooth guitar and Vacanti's rhythmic upright bass.
Falatico began her singing in Cleveland, Ohio, in the early-1990s. After moving back to Central New York, she performed with the Sal Alberico Big Band before forming a duo with Ferlo and a trio with Vacanti.
In addition to her musical career, Falatico operates The Movie of Your Life Productions, which conducts empowerment workshops for local organizations; juliefalatico.com.
Vote on this Story by clicking on the Icon