East Syracuse — East Syracuse-Minoa Musical Theatre will perform the classic musical "Bye Bye Birdie" at 7 p.m. Feb. 9, 10 and 11 at 7 p.m. with a 2 p.m. matinee Saturday, Feb. 11, at the high school. Tickets are $9 and are on sale now.
Inspired by the phenomenon of popular singer Elvis Presley, "Bye Bye Birdie" is a satire on American culture set in 1958. Teenagers are crazy for rock star Conrad Birdie. Disaster strikes when Conrad receives a draft notice to join the military and a farewell publicity stunt is arranged.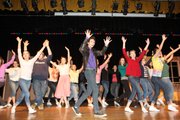 Popular songs include "Kids," "Put on a Happy Face," "An English Teacher," "The Telephone Hour" and "One Last Kiss." The lyrics are by Lee Adams and music is by Charles Strouse.
ESM's Maureen Natali is the director/producer, Steve Culhane is the orchestra director and Shawn Hebert is vocal director. CJ Young is doing the set design, Angela Saturno is the choreographer and Debra Ritchey of CNY Costumes is handling costumes.
In the cast, Marshall Pokrentowski plays Albert Peterson; Kirsten White is Rosie Alvarez; Cole LaVenture, Conrad Birdie; Adam Kindon, Harry Macafee; Sabreena Barbuto, Doris Macafee; Annie Parks, Kim Macafee; Zach Glanton, Randolph Macafee; Eric Sognefest, Hugo Peabody and Kala Bush is Ursula Merkle.
Teenagers are: Gabby Davis as Deborah Sue; Gina Brainard, Margie; Chandler Cronk, Alice; Kristen Vollmer, Helen; Grace Bousquet, Nancy; Lauren Mannerberg, Penelope; Katie Brown, Suzie; Ben Lannon, Harvery Johnson; Timothy Ranger, Karl; and Ryan Haas as Freddie.
Adults are: Jessica Barbini as Mrs. Mae Peterson; Rebecca DeJohn, Gloria Rasputin; Stephen Russell, Bartender; Sam Rossborough, Mayor; Rhoda Karagiannis, Mayor's Wife and Hannah Cone as Mrs. Merkle.

The ensemble includes: Steve Ali, Taylor Blume, Bella Calabria, Theresa Christen, Cassy Friedberg, Taylor Leo, Gianna Mangicaro, Francesca Mastrobattisto, Phoenix Merritt, Gina Monteleone, AnneMarie Ranger, Elena Ravera, Robert Schill, Natalya Tedesco and Brenna Zesky. There are still some parts to be cast.
For ticket information, visit ESM online or call the high school at 434-3300.
Vote on this Story by clicking on the Icon