No wonder Jack Lipton calls himself "Forgotten Boy."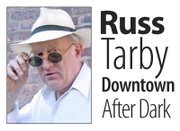 In the late-1970s, he was the leather-clad lead singer for the Syracuse rock band The Penetrators. Heavily influenced by the Rolling Stones, the back-to-basics quartet released several seven-inch singles with titles like "Teenage Lifestyle" and "Rock'n'Roll Face."
Hardly anybody bought them.
Though heralded by a handful of local punk-rock cognoscenti, The Penetrators — Lipton, Eliot "Spike" Kagan, bassist Paul Bawol and drummer Curtis Seals — disbanded in 1985.
Hardly anybody missed them.
The Penetrators' singles were compiled by Venus Records on the 1988 LP called, "Kings of Basement Rock." Other anthologists from California to Italy included Penetrators' cuts on their retro-collections.
Hardly anybody paid attention.
Doyle drops in
In 2008, Lipton and Kagan reunited to wax a new disc called "Bad Woman" on which Lipton sang a menacing rendition of Sam the Sham's "Li'l Red Riding Hood."
Hardly anybody noticed.
But "Bad Woman" had good mojo. Syracuse guitar god Mark Doyle guested on the disc, adding some oomph to tracks like "Talk Talk" and "The Last Time."
"I had a ball, and I filed it in my memory for future use," Doyle remembered. A few years later, when Doyle started a British blues-rock cover band called Mark Doyle & The Maniacs, "I thought of Jack immediately," he said.
So Lipton sang lead for The Maniacs, and the band won Syracuse Area Music Awards in 2009 and 2011 and both times Lipton stood at the podium with his fellow Maniacs, trophy in hand.
Lipton has spent years blowing the roofs off of West End garages and sweating it out in dank basement studios from DeWitt to Des Plaines.
Somebody had finally noticed!
'Forgotten Boy'
So, The Maniacs' success notwithstanding, you can understand why Lipton titled his new solo CD "Forgotten Boy." He may be 56 now, but — remember this — "Penetrator Jack" keeps rockin' like a derecho.
(Continued on Next Page)
Prev Next
Vote on this Story by clicking on the Icon