Redhouse Arts Center recently announced they will present award-winning actor Steve Hayes in his one-man comedic play, "Steve Hayes' Hollywood Reunion," at 8 p.m. Feb. 9 through 11 in Redhouse's location at 201 S. West St. in Syracuse.
The play is a hilarious investigation of one man's obsession with the classic screen sirens of the 1940s and '50s and their role in shaping his outlook and identity.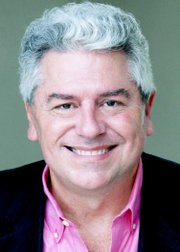 "I've always been attracted to the tough broads," said Hayes. "Susan Hayward, Bette Davis, Joan Crawford, Barbara Stanwick — these are the dames that have inspired me and the ones my show focuses on."
From rip roaring laughter to heartfelt tears, Hollywood Reunion is a must-see roller coaster ride, especially for the classic movie lover or theatre goers looking to see an expert example of the one-man-show.
"Steve has a lasting charm that wins over crowds wherever he performs, and this show will be no exception," said Redhouse Executive Director Stephen Svoboda.
Best known for his role in the movie "Trick," the Sundance nominated film with Tori Spelling, Hayes is a graduate of Cazenovia High School and Onondaga Community College. Having previously taught speech and theatre at Cazenovia College, Hayes recently played the role of "God" in the feature film The Big Gay Musical and can be seen on YouTube in his popular video blog, "Tired Old Queen at the Movies," a weekly classic movie review complete with impersonations, little known facts, and silver screen gossip.
A theatre and cabaret veteran, Hayes has won the ASCAP Popular Music Award six times, the Manhattan Association of Cabarets and Clubs MAC Award for Outstanding Comedian and Characterization three times, and won Outstanding Actor at the International New York Fringe Theatre Festival in 2006 for his performance in Stephen Svoboda's comedy, "The Penguin Tango."
The event is intended for teens and adults. Admission is $15 for members, $20 for non-members. Tickets can be bought online at theredhouse.org.
For more information on the performance, call 425-0405 or email info@theredhouse.org.
Vote on this Story by clicking on the Icon