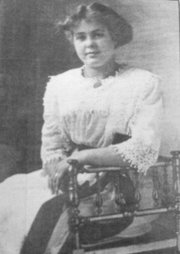 Skaneateles — Skaneateles Town Historian Beth Batlle is working on two research projects that mark important anniversaries in history — and Skaneateles residents connected to historic events — this year. This April marks the 100th anniversary of the sinking of the RMS Titanic; while the year 2012 marks the bicentennial of the War of 1812.
Batlle has worked to remember Skaneateles' connection to both events.
She currently is setting up a display in the historical society's Creamery Museum about the Titanic anniversary, highlighting the experience of one young woman, Emily Badman, who was on the ship when it sunk. Badman was on her way over from England to live with her sister, Mrs. Pauline Ernest Arthur, a resident of Skaneateles.
"Her sister had sent her the money for her passage, and she had also looked at the ships that were sailing and had picked the Titanic out," Batlle says.
The experience for Badman, as laid out in the article of the Skaneateles Press-Observer in September 1985, was not traumatic. Badman was unaware of the crisis on board when she was told to put on her life preserver and get into a lifeboat. She crowded into the second-to-last boat with 30 other women and children. It was only when they saw the ship actually sinking that they understood the seriousness of the situation.
They stayed afloat until 7 a.m. the morning of April 15, 1912, when the ship Carpathia picked them up. None of the women "were crying" because they did not realize that their husbands would not be rescued.
A woman on board with Badman was coming to America to marry her fiancé of seven years. He was so relieved to find her alive that the two were married at the hospital where the survivors were taken for checkups upon arrival in New York City. Badman was an official witness of the ceremony.
(Continued on Next Page)
Prev Next
Vote on this Story by clicking on the Icon