Although the winter season isn't conducive for cultivating grapes, Owera Vineyards is growing.
Thanks to a $994,000 grant, recently awarded by the Central New York Regional Development Council, Owera plans to introduce a new white wine this year, as well as construct a production barn and a community events center/tasting facility on their property at 5276 East Lake Road in Cazenovia, and hire six new employees.
"Barring a huge change in the weather, we will go into the ground here in mid-March with our first initial production barn … which will house all of our wine-making, as well as our storage," said Owera Vineyards Director of Operations Ben Reilley. "What that will allow us to do is cut the road back to our main tasting facility and community events center. It will be almost a half-mile back from East Lake Road on our property."
While many of the grapes the vineyard uses in its wines are currently grown in Cazenovia, the wine-production has been taking place at a facility in East Syracuse. The new 6,000 square-foot production barn in Cazenovia will allow Owera to make and store their wines on-site, enabling the company to better manage production schedules.
Reilley explained all 10 wines were previously bottled by a third party in a mobile 18-wheeler, so being able to produce and bottle the wine on a lengthened schedule is a welcomed change for the growing winery.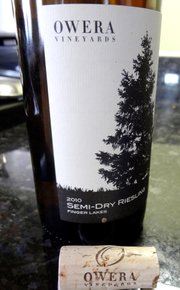 "One of the other things the grant allowed us to do is purchase our own bottling line," Reilley said. Wines mature at different times throughout the year. Rieslings and table-whites can go into the bottle shortly after the first of the year. Other red wines tend to take a little bit longer to age. With this bottling line, we can put together a production schedule, put it right on the calendar, and be more proactive in our business.
(Continued on Next Page)
Prev Next
Vote on this Story by clicking on the Icon