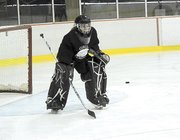 Skaneateles — The Skaneateles girls varsity hockey team is coming to the end of their season, hoping and intending to win their playoff games and end up state champs.
"We started a little rough, but now we're back on track," said team co-captain Nina Elia, a senior at Skaneateles High School.
"We're definitely going to be in the playoffs," said co-assistant captain, Madison Singler, a Skaneateles sophomore.
The team currently has a 2-5-3 record, with playoffs schedules for Feb. 1 and 2.
The girls varsity hockey team is a unique part of the Skaneateles school district athletic program because it is one of only three school-sponsored girls hockey teams in all of Central New York, along with Ithaca and Oswego. The team, in fact, is composed not just of players from Skaneateles, but from six other CNY school districts as well.
"It's kind of unique this year," said Lady Lakers' head coach Mike Major, who also works as assistant Skaneateles High School principal. "We combine with other school districts, but this year we're about half and half: half Skaneateles players and half from other schools. But the number of outside players will probably go down as the years go on because a lot of younger girls are playing this sport."
This is actually only the third year the Lady Lakers have been a district-sponsored varsity athletic team.
The first-ever girls ice hockey team was formed in Skaneateles about eight years ago as the Skaneateles Youth Hockey Association Under-12 team. At that time, the SYHA was comprised of boys teams, on which girls could play.
The first girls team started with eight players, ages 8 through 12, and interest in the team increased rapidly.

"By that first season's end, an additional five players joined and the girls program was well on its way to becoming a permanent part of SYHA. The girls team took only a few short years to earn the respect of the association and other associations around the state and Canada, as it won sectional titles three years in a row and took the championship at the Ottawa tournament several years in a row," according to a brief history of the team written by Sue Dove, former president of the Skaneateles Girls Hockey Booster Club.
(Continued on Next Page)
Prev Next
Vote on this Story by clicking on the Icon