Camillus — Officer Dennis Welch is one of the good guys, Camillus Police Chief Tom Winn said.
Welch retired from the force Monday, Jan. 23, after nearly 14 years with the department.
Photo Gallery
Officer Dennis Welch's last day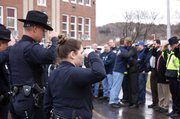 Camillus and Geddes Police, Camillus and Fairmount Fire Departments and other Camillus town employees and representatives gathered for a final send-off for Officer Dennis Welch. He's retiring after nearly 14 years with the Camillus Police Department.
"He's the type of police officer that every community wished they had," Winn said. "He's the police officer that you want to show up at your door when there's an emergency."
Welch is retiring after sustaining a head injury on the job in May 2010. He was tending to a person in cardiac arrest on a golf course and decided to ride in the back of the ambulance as it crossed the golf course to get to this individual quicker, Winn said. The terrain was rough and the ambulance hit a bump, throwing Welch into the roof of the ambulance.
"He could have driven his own police car across the golf course, but he's the type of guy who was always thinking ahead," Winn said. "He was planning for the best way to provide help for the patient."
Winn joined other members of the Camillus Police Department, the Camillus Volunteer Fire Department, Fairmount Fire Department, WAVES Ambulance, Geddes Police, Syracuse Police and Camillus employees and representatives for a final send-off for Welch Monday.
Everyone lined up in the parking lot to wish Welch well prior to his last shift starting at 3 p.m.
"Overall, he was one of the best police officers to be employed here at Camillus Police Department," Winn said.
Welch, of Marcellus, was joined by his wife, Jennifer, and kids, Emily, Matthew and Ryan, as he went through the processional, hugging and chatting with each person. Welch was previously employed with the Steuben County Sheriff's Office, the village of Alfred police department and the Syracuse Department of Public Safety at Syracuse University.
Vote on this Story by clicking on the Icon