The former McClurg Construction showroom on Main Street in Marcellus is no longer displaying state-of-the-art cabinetry — but it's just as vibrant as ever.
The room is now home to the Chocolate Pizza Company, which has expanded its Marcellus location following a 30 percent increase in sales in 2011 over 2010. McClurg, located above the chocolate shop, will keep its offices upstairs and move its showroom to a new location.
Chocolate Pizza Company owner Ryan Novak told Scott McClurg late last spring that his business needed to expand.
"We couldn't stay in the space we were in," said Novak, who bought the company in July 2010 and graduated from Syracuse University's Whitman School of Management in May 2011. "[McClurg] didn't really want us to leave because we're one of their bigger tenants here, so they said, 'Hey, how about this space we have on the end here? Will this help you guys grow?'"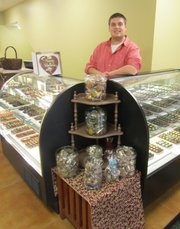 By extending its store across the entire first floor of the building, the Chocolate Pizza Company will be able to double the size of its kitchen — a much needed accommodation after adding 15 wholesale accounts last year. The company now has 35 businesses — among them area hospitals, florists and wineries — selling their unique line of chocolate.
The Marcellus-based company produced 65,000 pounds of chocolate in 2011 and has added four employees to its staff of nearly 20. While the Chocolate Pizza Company has become a national name — chocolate pizzas were shipped to all 50 states last year — Novak attributes much of the company's growth to its Manlius store, which he added in October 2010.
"Our sales have been so great out there, we have to produce more than if we just had this spot [in Marcellus]," he said. "This move is a reflection of the fact that the business took off in Manlius."
(Continued on Next Page)
Prev Next
Vote on this Story by clicking on the Icon