SYRACUSE — The end of the mayor's 24-hour eviction notice for Occupy Syracuse came about 44 hours later, resulting in seven arrests.
Police removed the Occupy Syracuse camp at around 3:40 a.m. Thursday morning and charged seven individuals with not having a permit for a temporary structure.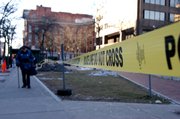 The demonstrators were charged by Syracuse Police after coming to the encampment Thursday morning. Early Tuesday morning, Mayor Stephanie Miner and Syracuse Fire Chief Mark McLees came to the camp to deliver a 24-hour eviction notice, citing propane tanks and other unsafe items at the camp. Wednesday morning, protesters came to the camp, readying for the mayor's eviction. The end of that 24-hour eviction came nearly 44 hours later.
Occupy Syracuse protesters had been at the camp for 109 days. Despite the seven arrests and the police's removal of the camp structure at Perserverance Park, on Salina Street, many came back Thursday morning to hold signs and show solidarity for the cause.
"The physical space was more of a symbol, a big symbol," said John Tall, 35, of Florida. Tall came to Syracuse to protest after Occupy Dayton was shut down. "We were arrested but the fact is we were out here in the cold, suffering for something we believe in."
Tall and six others were charged Thursday morning:
Tara Rush, 40, of Minoa; Judy Blanco, 30, of Syracuse; Jonathan Grey, 35, of Syracuse; Ryan O'Hara, 27, of Weedsport; Aaron Williams, 19, of Syracuse; Kaitlyn Shanahan, 20, of Syracuse.
Tall disagrees with the mayor's eviction and joined a small group Thursday morning back at the site. The area where tents once stood was blocked off by police tape, with a half-dozen police cars and officers watching over the area.
"The city is the people. It isn't the mayor or the police officers. That's not the city. We put her in office, so she works for us," Tall said. "It's not the city that doesn't want us here, it's the mayor."
Tall says the police officers who responded early Thursday morning were respectful of the protesters.
"I might not agree with the mayor, but the people she sent were the most respectful and did their jobs with the utmost professionalism," Tall said. "I'll tell ya, it gave me a tear when I came back and it had all came down."
All seven charged were released.
Vote on this Story by clicking on the Icon