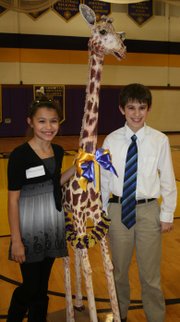 SYRACUSE — Christian Brothers Academy celebrated the Class of 2018 on Monday, Jan. 16, at its annual Accepted Students event. More than 300 accepted students, family members and friends gathered on Randall Road for a celebration of hard work and preparation for what the future will hold.
Principal Joseph Jozwiak welcomed incoming seventh graders and admissions director Holly Dowd presented academic scholarships to five students who excelled on the entrance exam. Scholarship recipients included Nico Modesti, Hannah Kang, Katie Toole, Hari Nathakumar, Anna Langlois and Francis Cannizzo.

Cole Shurtleff, Class of 2017, and Shannon Gross, Class of 2012, spoke and gave accepted students and their families insight into what education at CBA is all about. Entertainment was provided by the CBA Dance Company under the direction of Nicole Gait and the CBA Strings Ensemble, directed by Muriel Bodley.
Vote on this Story by clicking on the Icon