SYRACUSE — Twenty-four hours after Syracuse Mayor Stephanie Miner gave the Occupy Syracuse an eviction notice, the campers are still present, with no intent to leave.
Protesters gathered before 8 a.m. Wednesday to oppose the city's eviction, delivered by Miner and Syracuse Fire Chief Mark McLees yesterday. McLees cited violations of the city's rules against propane tanks. He said they found numerous propane tanks and campstoves at the encampment.
Photo Gallery
Occupy Syracuse's Eviction Day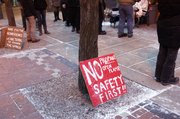 Eight a.m. came and went without a sign of the mayor, police or fire departments.
Miner had given the camp 24 hours to remove their property from the site. The protesters took a different approach, activating their supporters to come out today for the protest and to call Miner's office. Protesters agreed they were willing to be arrested for their cause.
"We're just going to keep occupying like any other day," said protester Ryan O'Hara.
The New York Civil Liberties Union has urged Miner to remove the eviction.
"It is our position that a mere 24 hours, and even less than that, is not reasonable or adequate given the degree of structure the mayor has allowed here, to maintain for 108 days," said central New York's director Barrie Gewanter.
Around 8:45 a.m., protesters left for a march to City Hall, where they requested a meeting with Miner.
The crowd erupted into chants sporadically. They also yelled at passing cars and police cars as they stopped near the scene. As of 10:45 a.m., police had not entered the encampment.
Vote on this Story by clicking on the Icon