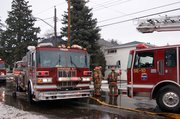 SYRACUSE — Syracuse Firefighters responded to a South Collingwood Avenue home Tuesday afternoon.
Fire crews, police and Rural Metro Ambulance services responded to the apartment home in Eastwood. Five people were displaced by the fire, which started in the kitchen, chief Mark McLees said.
The cause of the fire is still under investigation. The home also had numerous code violations, which now must be dealt with, McLees said.
Everyone got out of the home safely.
Vote on this Story by clicking on the Icon