End of the mortgage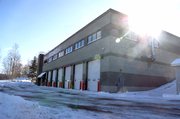 continued — The fire department cut planned spending in 2012 by a bit more than $27,000 — that works out to a 5 percent decrease.
"They may have a little more than they have in other years because they paid off the firehouse," Butler said.
The Newport Road station was built in 1991, Groesbeck said. This year will be the first without a mortgage payment on the building, but the building's age is causing other budget problems. The department overspent by more than $21,000 for exterior building maintenance.
In 2011, $13,000 was budgeted for repairs. Groesbeck said the 21-year-old building needed roof and window repairs, and the building was experiencing expansion joint issues. The parking lot had also not been sealed or repaved since the station was built, Groesbeck said. Phase one of the paving project, spanning the rear of the building, was completed in 2011, and the second phase should bring a new, paved driveway to the front of the building with the firetruck bays.
The budgeted $13,000 has swelled to $32,399.24 — that particular line item has been overspent by $19,399.24. Costs increased 95 percent between 2010 and 2011 for exterior building maintenance. Some maintenance work was covered by grants — the board of elections lobbied for grant money to assist the department in rehabbing the cement walkway in the rear of the building. The crumbling sidewalk could have been a hazard on election day; the station is a polling place.
For 2012, the department has budgeted for $23,000 for phase two of the paving project. The third phase, the "U" portion of the driveway, will be completed the next year.
"It was starting to become a liability to the village," Groesbeck said.
Despite the overall decrease in the budget, and the expected surplus, certain areas of the budget have also been overextended.
Vote on this Story by clicking on the Icon