I used to think that demonic possession was pretty standard stuff.
Give a couple of martinis to one of my mom's golfing buddies after a bad day on the course, and she would become mortally aggressive, talk in tongues, and scamper across the ceiling like a wild spider.
"The Devil Inside" would have us believe that such behavior is somehow unusual and horrifying.
The movie was done in documentary style with a hand-held camera, supposedly in real time with real events. Twenty years prior, a woman kills two priests and a nun in the course of an unauthorized exorcism.
The story evolves to the present where the woman's daughter travels to a Vatican mental hospital where her mother is held. The daughter is seeking some closure – and the help of two priests in Rome - with her "moody" mother.
Is the mom possessed?
Well, she gets pretty testy, she levitates and she simultaneously speaks four languages real well.
Fun as all that sounds, we should not consider this movie seriously. It is a ridiculous piece of work with no redeeming value. We love good drama, great laugh-riot comedies and mysteries that make us hold our breath.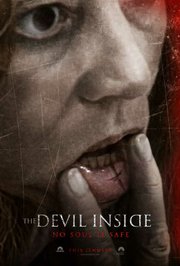 Sometimes we also like to get the wits scared out of us. There is nothing like a film with unadulterated terror to stir your blood.
Too bad this is not one of them.
This faux-documentary cost $1 million to make and made $34 million over its first weekend.
A response like that suggests validation — some people will pay anything to see a woman dislocate her own shoulder.
Not me. I could see that in my mom's living room for free.
Jim Wigge is a Cazenovia resident and film-aficionado. After retiring from his career as an engineer, he has been reviewing movies for the Cazenovia Republican. He can be reached through the editor, at editor@cazenoviarepublican.com.
Vote on this Story by clicking on the Icon