Baldwinsville — The Baldwinsville Marching Band ended its season as the 2012 Gator Bowl Sweepstakes Champions.
The 110- member band, directed by Casey Vanderstouw, placed first in the Gator Bowl field band and parade band competition held on New Year's Eve in Jacksonville, Fla., receiving a slew of trophies and a $10,000 check for their award winning show, "Apollo 11: From the Earth to the Moon." The band beat out 10 other bands from around the country for the title as well as for the right to perform its show for the bowl's pre-game show before thousands of fans.
Band members and staff worked diligently for months perfecting the show as well as raising all of the funds necessary for the trip by holding bottle drives, fruit sales and a golf tournament.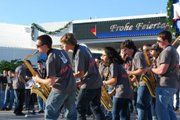 In addition to winning the Sweepstakes Award, the band clinched first place in the following categories in the parade band competition:
Parade Band Class AA
Percussion
Guard
Marching
General
General Effect
In the field band competition, the band placed first in the following categories:
Field Band Class AA
Drum Majors
Percussion
Guard
Marching
General
General Effect
While in Florida the marching band and Plan Bee, the pep band, played at the Kennedy Space Center, drawing in large crowds to watch their performances.
A police escort to Baker High School, where a group of cheering family and friends were waiting, announced the band's arrival back in Baldwinsville on Jan. 3.
Vote on this Story by clicking on the Icon