You may have thought that bc Restaurant in Armory Square was a fine dining establishment because the tables had fancy tablecloths. It might have been the decor that prompted you to believe the place was out of your price range.
Well, the owners of the newly renovated eatery at 247 W.Fayette St. want you to know that's no longer the case. Management said everything will be in place for the Jan. 13 reopening.
"We want to be your casual downtown casual dining spot," said General Manager Shaun Preble. "We're going for the ultimate dining experience."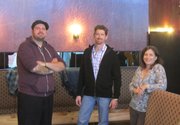 On Feb. 4, bc will celebrate its eighth anniversary, which is what prompted the facelift. What patrons will see is new hardwood flooring, a new paint job, an expanded bar area with community tables and brand new rugs. Out of sight, though, is the kitchen, which Ellen Leahy, a managing partner, said received a massive procedure. Not only is there a new head chef in Wayne Cafariella, but bc also got some new equipment, painted the kitchen and spruced it up to be more modern.
That fits right in with a rejuvenated menu.
"We're going for modern dining," Cafariella, a 28-year-old Institute of Culinary Education graduate, said. "Just simple, good products done right. We weren't trying to reinvent the wheel with this. I just put the menu together based on what I'd want if I walked into the place."
Among many other menu options is the lobster macaroni and cheese, which Cafariella says is a homey, comfort food. Both Cafariella and Leahy have extensive backgrounds with seafood. Cafariella has worked in restaurants on Long Island that specialize in fare from the deep blue, while Leahy has done the same in Boston and also in California.
Leahy, formerly a co-manager, became a partner when Bill Collins left to teach full-time at Syracuse University. One of the things Leahy did was help connect bc to the local economy by working with Syracuse First, a non-profit group made up of local business owners whose goal is to keep the local economy strong.
(Continued on Next Page)
Prev Next
Vote on this Story by clicking on the Icon