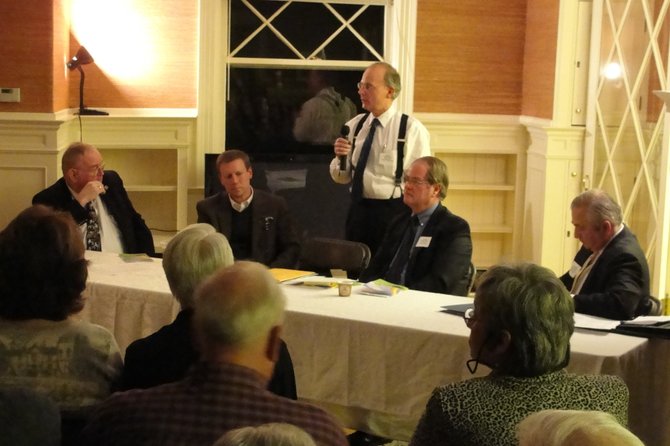 continued — "We wish the Frazee's a lot of success, they were with us for 50 years. [Their new headquarters] is moving very quickly. It's a spectacular facility," Bradstreet said. "It was sad losing them; they had been good for Nelson. We don't know what they will use with [their former location] property, but there is talk about an Aldi's or feedmill."
Ending his speech on a positive note, Bradstreet told of the new playground planned for Nelson, and his confidence in the two new enthusiastic councilors elected to the town board, John LaGorga and John Laubscher.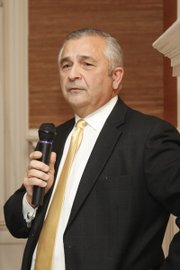 In his speech, Superintendent Dubik recapped the 2010-11 Cazenovia school year, which was full of student and faculty accomplishments, both academically and athletically. Three varsity sports teams, including the field hockey, ice hockey and lacrosse squads, claimed Class C state championships; the high school technology department was named the Central New York Technology Department of the Year, with department leader Chris Hurd earning the title of CNY Technology Teacher of the Year; and the district was ranked ninth out of 431 school districts across Upstate New York. In addition, the high school was named as one of Project Lead the Way's 16 nationally-recognized Model Schools and a team from the Cazenovia FFA participated in the 84th National FFA Convention in Indianapolis.
Dubik outlined the $12.6 million Capital Improvement Project, which was completed in September, and addressed the growing problem with declining enrollment. For the past two years, the district has observed smaller numbers of incoming kindergarteners; Dubik noted if enrollment continues to decrease, the district may have to slowly downsize teaching staff. Concluding, he asked Valeskey and Magee to continue their work securing mandate relief and promoting Cazenovia as an attractive area for young families to move to.
Supervisor Monforte first thanked area voters for electing him to a second term, and applauded the owners of large businesses that have chosen to reside in Cazenovia while operating their companies in Madison County. He said lake treatments are scheduled to take place in 2012, and stressed the importance of the proposed vacuum sewer district for lake vitality.
Vote on this Story by clicking on the Icon