continued — Magee mentioned the $150,000 he was able to secure for the village of Cazenovia to put toward the replacement of the Clark Street bridge, and told of a new greenhouse and aquaculture center that will be constructed by Morrisville State College and Cazenovia-based Johnson Lumber Company.
In the coming year, Magee said he will look to provide more funding to area residents affected by cuts in state aid. "Through legislation, we hope to provide mandate relief for localities included but not limited to passage of the Medicaid Reform Bill, and help our schools in determining a more equitable distribution in school aid. Growing business and working to provide a business-friendly environment in New York will be the end goals in current legislative sessions," he said.
Senator Valesky also spoke about the current legislature. He was happy to report on the state's success in the last year and offer his positive outlook for "a new era of bi-partisan cooperation in Albany." He reminded the audience of the Ethics Reform Bill he helped pass, the $10 billion budget gap the state was able to balance without raising taxes and his continued cooperation with Magee, a fellow Democrat.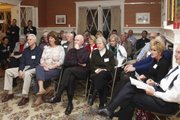 Valesky said moving forward, he will also be concentrating on mandate relief for local governments and school districts that were affected by the tax cap of 2011. "The gap-elimination adjustment we've had to impose over the last couple of years has been particularly difficult on rural school districts in this area and across Upstate New York; we have to address that," he said. "I think we have turned a corner in the state, and if we continue to work in a cooperative fashion, we will continue to see better days ahead."
Supervisor Bradstreet touched upon the subject of the statewide tax cap as well, saying that it may have been a welcomed change for residents, but made running a small government, which relies on revenue generated by tax dollars, difficult. He also said losing a successful retail business, Cazenovia Equipment Company, to Cazenovia was a low point for Nelson this year, although he wishes the company well. The thriving farm-equipment company moved their headquarters to Cazenovia after a fire devastated their Nelson location this summer.
Vote on this Story by clicking on the Icon