Baldwinsville — Several Baker High School graduates made their debut on the silver screen this past weekend.
Held Saturday night at the Palace Theater in Eastwood, 270 guests attended the premiere of Whiskey Hollow, the first full length feature from Lipke Productions, founded by Matt Lipke, a 2011 Baker grad.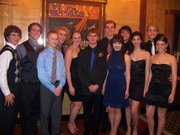 "I thought that the turnout was amazing," said Lipke, who wrote, acted, directed, produced and edited the film. "I never would have thought that many people would be there to support our film."
According to Lipke, filmmaking has always been a passion of his.
"I first started making small films about six years ago with my friends and cousins," he said. "I really love writing and making films."
When asked about his inspiration for his movie Whiskey Hollow, Lipke said it came to him in a dream. Afterward, he began writing the screenplay with the help of "right-hand man" Aaron Stolicker. They then recruited several more Baker graduates including Matthew Keim (who acted and wrote the score for the film), Michael Watkins, Marina Massaro, Morgan Noone and female lead actress Erin Doyle to begin filming – a project they undertook last summer.
"This was our life for two months," Lipke said at the premiere.
It wasn't all about film making, though. The students plan to use the estimated $1,000 raised at the Palace event to benefit their Baldwinsville Relay for Life team, which in turn will benefit the American Cancer Society.
While the future for Whiskey Hollow is uncertain (for updates and a possible DVD release of the film, visit whiskeyhollowfilm.com), Lipke and his fellow film buffs plan to begin filming their next movie, A Demon In My View, this May at Syracuse University.
"We need funding support for [A Demon In My View]," Lipke said, adding that potential donors can learn more at kickstarter.com.
Vote on this Story by clicking on the Icon