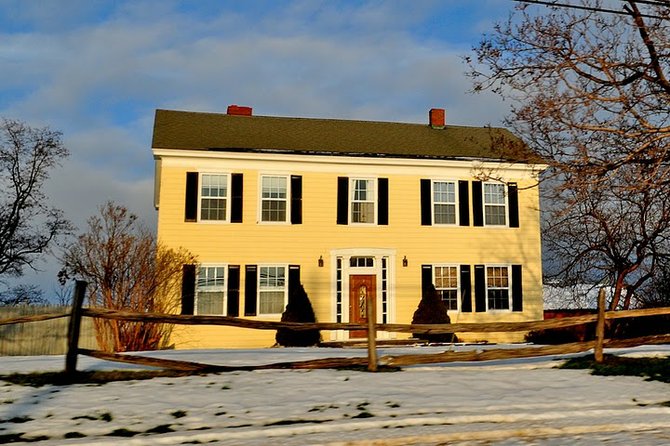 continued — After Planning Board Chair Michael Palmer opened the hearing to public comments, Ted Bartlett, a local Historic Preservation Consultant and head of the Village of Cazenovia's Historic Preservation and Advisory Review Committee, presented a letter from Director of the NYS Historic Preservation Field Services Bureau Mark Peckham.
The letter states the Zephaniah Comstock House "is an important part of the early 19th century history and architecture of Cazenovia and it remains listed on the register in spite of several superficial changes in recent years. The significance of the Comstock House is enhanced by its original location on the historic turnpike to Cazenovia and its setting of mature trees and plantings which are evocative of its farm history."
Carlos Gavilondo, a member of the Cazenovia Advisory Conservation Commission, read a letter on behalf of the Cazenovia Preservation Foundation.
"CPF is categorically against the demolition of any National Register Building except in a compelling case and this request is not a compelling case. The Village and Town Comprehensive Plan of 2008 calls for identifying, protecting and enhancing all gateways to the village to maintain the distinction between its character and the rural town character," the letter states. "Route 20 is designated by New York State as a Scenic Byway, a choice made to emphasize the importance of preserving historic villages with significant structures as well as vistas and viewscapes. Cazenovia's Route 20 entrance at the Ender's House epitomizes the intent of the Scenic Byway and, as a result, seems more welcoming and more interesting to visitors and potential shoppers."
Town of Cazenovia Historian Sara Chevako also spoke to express her opposition to the proposal to tear down the historic Zephaniah Comstock House. She read from a letter which is printed in this week's issue of the Cazenovia Republican.
The concept of adaptive re-use of the property was presented by village resident Roger Demuth. "Can't we keep the historic sense of the property and appease both parties?" Demuth asked, citing the reuse of a cobblestone house outside Rochester that is now a coffee house. "A little town does not have too much besides its history. And when it is gone, it is gone."
Chairman Palmer stated that Muraco has presented "no plans for the future of the property" and told those in attendance that no re-development plan is required to grant the request for demolition.
The board will continue to accept written comments on the subject until Jan. 16.
The 111-page DEIS is currently available on the town's website, townofcazenovia.org.
Vote on this Story by clicking on the Icon
More like this story