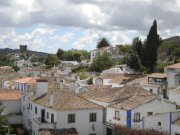 It never ceases to amaze me how differently humans throughout the world live their lives. I am yet again pondering this truth after returning to America from a couple of weeks abroad over the holidays.
My husband and I traveled to Portugal, via Madrid, Spain, to be with my family where they live in a small village in the hills surrounding Lisbon.
Each morning we woke to blue skies and bright, warm sunshine. Stepping out onto the veranda, you overlook the idyllic scene of the village nestled in the valley of three or four verdant and expansive hills, topped by turbine windmills.
It appears as if it has not changed for over a hundred years. And in many ways, it hasn't. The village of Fanhoes is always thriving in the morning, almost more than any other time of the day: the dogs, stray and chained alike, yip and yap with vigor, the roosters crow persistently several times every hour, the sheep bleat at one another and the men and women are more often than not heard calling out to each other in conversation that is so strange and foreign to us here in Skaneateles.
The small church's bell rings every 15 minutes, 24/7 — much like the roosters.
I adore this village for many reasons, not the least of which is the beautiful culture it represents. Small, cobbled alley-like streets lead past dozens of tiny little homes. Some of these haven't been touched for a century, while others have been repainted and renovated and now brilliantly represent the beauty of Portuguese architecture.
The main streets of the village, meant for vehicles, are so narrow that if the regular bus comes through while you're strolling by, you may have to squeeze yourself up against someone's front door in order to get out of the way.
(Continued on Next Page)
Prev Next
Vote on this Story by clicking on the Icon