It's go time for members of the Fayetteville-Manlius High School Student Council and Dance Marathon committee.
On Thursday, Jan.5, the group participated in an evening assembly to mark the two-month countdown to the school's annual Dance Marathon, which raises money for Camp Good Days and Special Times.
Camp Good Days and Special Times is a not-for-profit organization dedicated to improving the quality of life for those who have been affected by cancer and other life challenges. Each summer, the camp hosts children and adults during weeklong visits. Free-of-charge to the campers, the focus is on fun and enrichment.
The camp was founded in 1979 by Gary Mervis, whose daughter, Elizabeth "Teddi" Mervis, was suffering from the pain of a malignant brain tumor, but also the loneliness of being a young child with cancer. Since then, more than 42,000 campers from 22 states and 27 foreign countries have been able to spend a summer week free from worrying about their illnesses or domestic problems. Camp Good Days and Special Times, located near Rochester with offices in Syracuse, also hosts year-round events and activities.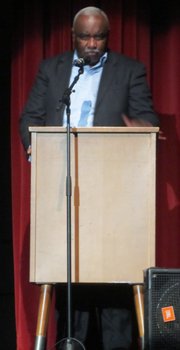 F-M has been involved with raising funds for Camp Good Days and Special Times for more than two decades, surpassing the $1 million mark during that time. The school, for several years, has been the largest non-corporate donor to the camp, raising $127,000 at last year's Dance Marathon.
The bar has been set higher this winter.
"They are going to try and get to $130,000," said Student Council advisor and English teacher Jacob Hess. "It's gone up every year, and it's almost unfathomable to think that it's that high, but the camp means so much to our students. It really is a school-wide effort, with the Student Council and our emcees taking the lead."
The bond between Camp Good Days and Special Times and Fayetteville-Manlius High School is much stronger than just an astounding yearly donation, however. Hundreds of F-M students have counseled at the camp, and dozens more will be back this summer.
(Continued on Next Page)
Prev Next
Vote on this Story by clicking on the Icon