continued — Lonsberry has been reading local newspapers and browsing television websites to familiarize himself with the major stories and happenings of Syracuse and Onondaga County.
"I need to learn this community, and I need to learn to love this community," he said. "That's an obligation I have. I don't think I'm coming in with the all the answers, and I'm going to make rookie mistakes. I need to apologize for being a gomer from out of town."
Being the new kid in town isn't something unfamiliar to Lonsberry — for ten years, he hosted a talk-radio show in Salt Lake City, Utah. From February to December 2011, he hosted a new show in the west-coast city until a change in Rochester's time slot forced the Utah show off the air. Like in Utah, becoming familiar with Central New York's people, places and things that matter isn't going to be done in studio or while reading the paper, he said.
"I'm going to drive around, meet the mayors. Get to know the folks from here," he said. "I'm going to make calls and say 'I'm so-and-so, I'm the new guy and I don't know much.' That call may be to the police chief or the mayor or the guy at the pizza shop. The fact that I'm the new kid in town is going to be a dominant theme."
The nuances of Syracuse are in the forefront of Lonsberry's mind as he studies where the city has been and where it's going. Don't expect comparisons between the sister cities, he said.
"Rochester and Syracuse are very different," he said. "One size does not fit all, and the surest way to fail is to think that it does."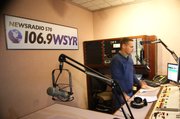 Lonsberry has been on the air in Rochester since 1995 when he made the switch from print journalism to broadcasting. Traditionally, his conservative-leaning show focuses on strong American values and the goings-on of the community.
Vote on this Story by clicking on the Icon