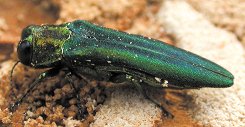 For local ash trees, the arrival of a devastating pest in Western and parts of Central New York is very bad news. The Emerald Ash Borer has been an unwelcome guest in the United States for several years, but until recently it had not been found in our area. Unfortunately, all that's changed and the beautiful ash trees that shade our neighborhoods and line our streets are now in danger.

Recently, various media have shared the ramifications of Emerald Ash Borers on local ash trees. In their larval stage, these beetles bore into trees causing thinning of the tree canopy and branch dieback. While it is true that in most cases infested trees die after three to four years, residents should not give up hope for their trees.
Significant research has and is currently being conducted to yield treatment options. In Michigan, where it's suspected that the borer has been present for over ten years, a study by Michigan State University has proven that there are valid treatments.

Tests indicate that although severely infested trees typically cannot be saved, attacks on healthy trees can be prevented.


Locally, leading tree care provider Bartlett Tree Experts is working to preserve trees and help educate property owners on this pest. "It is extremely important that residents understand what this pest can do, how it spreads, and what can be done to prevent loss of this important component of our urban forest," said Mike Gorham of Bartlett's office in Syracuse.

According to Gorham, scientists have developed specific treatment recommendations for managing this pest.

In fact, Bartlett offices in other states with Emerald Ash Borer have already implemented these recommendations and are successfully preserving trees. Periodic inspections, prompt removal of infested trees and annual treatments with the appropriate insecticides are just part of this success.

Gorham, a Board Certified Master Arborist, urges property owners to remember that each tree is different and should be evaluated on a case-by-case basis. "In many ways, trees are like humans and pets. Each tree responds differently to stressors and the prescribed treatments," said Gorham.

"By assessing trees individually, we can determine how to best treat them. Or, if removal is the only option, we can do so in a way to help protect other trees on the property from the same fate."

Vote on this Story by clicking on the Icon