Skaneateles — When it comes to romance, Susie Birchenough thinks she may have been born in the wrong century.
"I like old-fashioned romance, the kind you see in old movies. I think our society has lost a lot of that intimacy in the sense of paying attention to each other," said Birchenough, a Skaneateles resident and entrepreneur.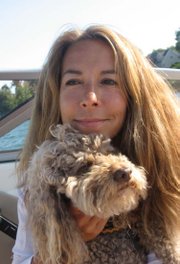 Birchenough's belief in romance and intimacy, as well as her experience and keen eye for female fashion and jewelry, has led her to create a new online boutique business, named Scarlet Ribbon, designed to "awaken the sensual soul in females" and to provide a concierge gift service for men "providing ease and enhancing closeness in relationships."
Scarlet Ribbon sells jewelry, handbags, fragrances and scarves, all from top-quality designers around the world. Her offerings are nothing easily found or mass-marketed, but more unique.
Basically, Birchenough, who has extensive experience in and knowledge of female fashions, reviews the work of world-class designers and specifically selects the best items for sale on Scarlet Ribbon.
"I'm very selective in what I choose to sell. I focus on items that are classic, timeless, exquisite and refined," Birchenough said. "These are the kind of things women love to get but may not buy for themselves."
Birchenough sells these items to the women and men who seek her assistance, whether it is to buy something for themselves, or, more likely, as a gift for someone they care about.
And that is in fact the main purpose of the boutique: to act as a concierge service to help men shop for the women they love.
When Birchenough's clients approach her, they tell her what types of things their loved ones like, or don't like, and she shows them the items she offers for sale.

"It's nice for men. I've already done a lot of pre-selection of items. They see I'm very selective and they feel their wife or girlfriend will be happy with what they've chosen," Birchenough said.
(Continued on Next Page)
Prev Next
Vote on this Story by clicking on the Icon