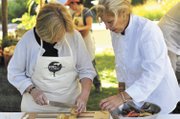 Skaneateles — People all over Skaneateles have been talking since last week when word leaked out that local restaurant Joelle's French Bistro has been put up for sale.
"It is for sale, it is on the market for $460,000. I have had a couple of offers already," said co-owner Alain Castel.
Castel, restaurant manager and sommelier, and his partner Joelle Mollinger, executive chef, are selling the business because they are parting ways after nearly five years of offering classic French cuisine to Central New York.
Castel, a French-born former New York City restaurateur, is moving to Seattle to be near his daughter and family, he said. Mollinger, a native of Casablanca, Morocco, who learned to cook in Paris, will remain in Central New York.
The house, the business and the land that comprise Joelle's French Bistro on Route 321 a few miles north of Skaneateles is all for sale. Until the sale is complete, the restaurant will remain open for business as usual, Castel said.
When news of the decision spread throughout the Skaneateles community, "everybody came running," Castel said, so he sent out a mass email to friends and supporters to explain the situation.
"I'll be leaving Skaneateles, and all of you my Friends, with a trickle in my eye, and a sore heart in my chest, But hey, as my father always said, 'There's always a silver lining, it's up to you to see it…' Well I'm lucky , I've actually seen it , in the skies over the lake, and not just any lake, our lake, Skaneateles. From the bottom of my heart, I love you all," Castel wrote.
In response, he received about 500 emails expressing sadness at the news and asking them not to go.
"The response has been fantastic," Castel said. "I had no idea how much we've touched this community."
(Continued on Next Page)
Prev Next
Vote on this Story by clicking on the Icon