continued — "I don't know if it's due to climate change or not," Eichorn said. "I seriously suspect it is, but suspicion and being able to say [definitively] are two entirely different things."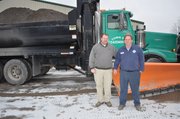 Severe weather can make highway planning more difficult. "Last year, being so extreme, we plowed 180 times, and this year we're 60 [trips] less than normal," said Cazenovia Town Highway Superintendent Tim Hunt.
Last winter's robust snowfall, 179 inches in total, had plow drivers out 130 times by late February. This year plow drivers have only been out 65 times.
"Last year we had an extremely hard winter, and this year we're having an extremely mild winter," Hunt said. "Last year the Southern Tier had extreme flooding and the year before that Cazenovia did. When it rained, it really rained, and we had roads washing out."
Coping with this erratic weather could be a challenge, especially for those who depend on consistent snowfall for their livelihood.
Toggenburg Mountain Winter Sports Center feels some strain from inconsistent winter weather.
Toggenburg Mountain Officer Manager Cyndy Sisto said the ski hill is earning a profit this season, though not as much as they had hoped for.
Sisto said the ski trails are open with plenty of coverage; it just took a little longer this year to get everything open because of less snowmaking opportunities.
According to Sisto, Toggenburg uses snowmakers and state-of-the-art groomers, which can turn icy conditions into corduroy, to maintain favorable conditions when the weather won't cooperate.
"You have to go into the winter thinking you'll make it through somehow, like making the snow in February and trying to get the word out… that 'yes we're here, we have great conditions and we're open.'"
According to Eichorn, "if this is in fact a result of our changing climate, then you've got to be suspicious we're going to see more of this for a while."
Andrew Casler is a Cazenovia High School alumnus and freelance journalist for Eagle Newspapers. He can be reached at arc294@cornell.edu.
Vote on this Story by clicking on the Icon