Photo Gallery
Destiny Expansion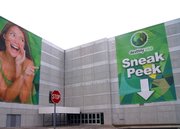 Parts of the expansion are already open.
SYRACUSE — The expansion of Carousel Center has been a long time coming. In a history sometimes marred by controversy and lavish plans, the future of Destiny USA will be opening as the expansion continues on a rolling schedule. Parts of the expansion are open now, and the spring will see many more of the 100-plus new tenants opening their doors to Central New York's shopping needs.
The bulk of Carousel Center sees about 3,400 full-time employees in all of the stores. Once the expansion opens in earnest, there will be about 1,600 additional, new employees in the shopping complex, said David Aitken, Destiny USA executive.
"Five-thousand people who are gainfully employed certainly helps the region's economy, as well," Aitken said.
The mall's stores also employ additional part-time personnel, Aitken said.
Check out all of our Destiny Expansion coverage below:
Franciscan Place: Quietest place in the mall
Mayor of the mall: Rob Schoeneck has been the GM since 1991
Destiny goes social with online efforts
Congel: Committing to Syracuse is the 'right thing to do'
Vote on this Story by clicking on the Icon