Cazenovia — On Saturday, Jan. 14, socially conscious Cazenovia High School students, restless after the season's first snow day, braved the cold and descended upon the American Legion for the Second Annual Mucho Dinero dance.
High school art teacher Bill Paben and Cazenovia Town Councilor Pat Race manned door, Christian Garber and Nick Christakos provided a setlist perfectly in sync with the teenage mind, and all in attendance had, arguably, their best night of the year 2012.
The dance was the brainchild of Beth Race, Cazenovia Middle School's computer teacher, who put forth tireless efforts to get high school students to think strategically and purposefully about their varied and various fundraising efforts.
"It's a very simple formula: each student solicits ten dollars from ten people; if everyone in the class shows up, the class can stand to net almost ten thousand dollars," Race said. "Though attendance was low, we hope to continue our messaging throughout the year, and make a big splash the next time around!"
To gain admission to the dance, students were charged with fundraising on a class by class basis; the Class of 2014 eclipsed all others, raising a grand total of $1,000, while the Class of 2013 turned in a respectable $850.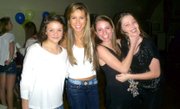 The Fundraiser of Distinction award went to sophomore Edie Connor, who turned in $100 in her fundraising packet at the start of the dance, and won the event's biggest raffle halfway through the evening.
By the end of the night, Connor decided to forgo her iPad prize and donate the cash value to her class — a modern day philanthropic dilemma with a happy ending.
During the six-hour dance, students were fueled by delicious baked goods provided by Mary Connor and Karen Coombs and sold by teachers Kim Shug, Trisha Moesch and Karalyn Beck, and blue and yellow gumballs donated by Beth Carroll of the Cazenovia Candy Shoppe.
(Continued on Next Page)
Prev Next
Vote on this Story by clicking on the Icon