Cazenovia — With scarce snow accumulation, area snowshoe racers jettisoned their distinctive footwear and strapped on sneakers to compete at Highland Forest on Feb. 12.
This local competition determined the top racers over a 5k and 10k course. Lead finishers qualified for the United States Snowshoe Association National Championship, to be held Feb. 25 in Frisco, Colo.
Event organizer Chary Griffin, of Cazenovia, will also race in the national championships. She qualified for the big race in early January when there was enough accumulation to race in snowshoes.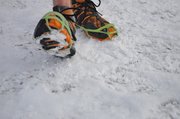 Griffin became involved in the USSSA first as a racer. She was originally drawn to snowshoeing while training for marathons during the winter.
"[During the winter] it's not easy, with all the snow that we have, to get in 15 to 20 mile runs," she said. "When the first running snowshoes came out I was very interested in them. It looked like a good way to get my workout and be able to run through ice and snow."
Since taking up snowshoeing, Griffin has competed in every USSSA national championship and many other noteworthy competitions. She even placed 47th out of 7,000 competitors in the world's largest snowshoe race, held in Italy.
She later took on event organizing because of her familiarity with the sport and Highland Forest's hosting of the 2010 snowshoe racing national championship.
With the race on Feb. 12, Griffin showed students enrolled in the Cazenovia College sports management program a few tricks of the event organizing trade.

"I have to say they did a magnificent job for their first time out, and they couldn't have been more helpful," she said.
Even with this winter's lackluster snow accumulation, Highland Forest racers battled cold, icy conditions because the temperature dropped to 15 F during the race. To contend with slick conditions, some runners outfitted their shoes with specially designed lightweight crampons for runners.
(Continued on Next Page)
Prev Next
Vote on this Story by clicking on the Icon