Camillus — Eighty-one students created 48 exhibits that were entered for judging in the Camillus Middle School Science Fair on Feb. 2.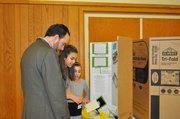 "The students presented their projects with great enthusiasm," said science teacher Jacqueline Mills, who coordinated the fair. "It was evident that the students were proud of their accomplishments."
Project themes were diverse and included water evaporation, bacteria, 'How cheap is a penny?', musical bottles, acid rain and video gaming addiction.
Participating sixth graders
Sarah Angrick, Meredith Barrett, Jacob Bauer, Carly Benson, Madalyn Benson, John Bergan, Michael Bleskoski, Benjamin Brown, Jeffrey Bush, Morgan Cappon, Christopher Chiasson, Alison Cox, Victoria DeSantis, Ashley Devereaux, Ryan Doucette, Katherine Drogo, Samantha Eades, Collin Eiber,t Emma Flaherty, Ryan Gentilcore, Lindsey Ingram, Anna Jacques, Drew Kieffer, Justin Kingsbury, Mitchell Kristoff, Allison Leonard, Maggie Linton, Caroline Lopez, Michael Louise, Lydia Magnante, Gabrielle Major, Sangu Mbekelu, Patrick McDonald, Hunter McIlroy, Jessica Mahoney, Joanna Maressa, Brian Mirabito, Phoebe Nelson, Adrianna Nojaim, Emma Parry, Derek Pettinelli, Joseph Piato, Karsyn Plis, David Pugh, James Raymonda, Jared Rayo, Madison Rice, Jack Richards, Griffin Sasso, Sara Schueler, Kathryn Spinks, Patrick Stanistreet, Gabriella Tambroni, Sophia Valerino and Alexander Zapf
Seventh graders
Emily Cox, Ryan Dunning, Hannah Gavin, Priscilla Grooms, Katie Halko, Elizabeth Jones, Sarah Jones, Lily Kustyn, Mikayla Langevin, Aimee LaVine, Meghan Mello, Dylan Plis, Emileigh Palumbo, Amelia Ryan and Jill Ward


Eighth graders
Abigail Badeau, Kaitlin Dunning, Alice Gavin, Emily Green, Jenna Hickey, Jacob Jones, Celine Kristoff, Connor McGuigan, Ryan North, Lauren Reilly and Emily Williams
Vote on this Story by clicking on the Icon