When a Jewish child and a black maid bond during the waning days of Jim Crow in St. Charles, Louisiana, musical magic ensues. Even the washing machines and dryers sing like archangels!
So you can imagine the width and breadth of the tunes' genres in "Caroline, or Change," the unconventional musical by Tony Kushner and Jeanine Tesori now playing at Syracuse Stage, 820 East Genesee St.
"We play everything from Cajun to klezmer," said Syracuse Area Music Award-winning fiddler Diamond Joe Davoli, a member of the play's 10-piece pit band.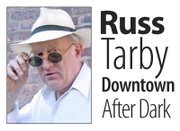 The all-star orchestra is led by the show's musical director, keyboardist Christopher Drobny, and features cellist Walden Bass, guitarist/mandolinist Tom Bronzetti, reedman Joe Carello, fiddler Joe Davoli, percussionist Josh Dekaney, reedman Frank Grosso, violinist Sara Mastrangelo and bassist Darryl Pugh.
Directed and choreographed by Marcela Lorca with musical direction by Christopher Drobny, "Caroline, or Change" earned six Tony nominations in 2004 and won the Olivier Award for Best Musical in 2007.
The Syracuse Stage cast is led by Greta Oglesby as Caroline and also features Michelle Barber, Larry Block and Danielle Thomas, who plays the Washing Machine. Yes, the Washing Machine sings in this show!
Performances are scheduled for 7:30 p.m. Thursday, Feb. 2; 8 p.m. Friday, Feb. 3; 3 and 8 p.m. Saturday, Feb. 4; 2 p.m. Sunday, Feb. 5; 7:30 p.m. Thursday, Feb. 9; and runs through Feb. 26.
Ticket prices range from $18 to $50; 443-3275; SyracuseStage.org.
Brews news
How about those newfangled table taps at the Saltine Warrior Sports Bar? The downtown beer bistro features a draft system that allows you to share a mini-keg at a table with friends. And the Warrior also offers Arrogant Bastard on tap. Find the Saltine Warrior at 214 W. Water St., just west of Clinton Square; 314-7740.
…The world-famous Dinosaur Bar-B-Que now serves a Smoked Porter concocted by Syracuse's own Middle Ages Brewing Co. If you're driving, though, be sure to drink moderately. This porter packs a punch at five percent alcohol. The Dino is at 246 W. Willow St., at the corner of South Franklin; 476-4937.
(Continued on Next Page)
Prev Next
Vote on this Story by clicking on the Icon