Marcellus — A family separated by hundreds of miles has maintained a bond through the power of the Internet — and hand-made doll clothes.
Ruth Kinder, known to her family and friends as "Peachy" or "Grandma Peach," has been able to involve three generations of her family in her business and hobby of making and selling clothes for American Girl dolls.
Ruth, 84, who worked out of her home in Marcellus as a seamstress for years, later found joy in designing and hand-crafting clothes for 18-inch American Girl dolls. She sold her clothes to local businesses for years with mixed success, but her business really took off with the help of the Internet and her twin granddaughters.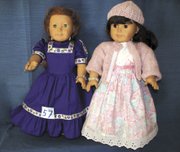 At the suggestion of their mother Laurie Sorge, twin sisters Ellie Sorge and Nikki Glenos, now 24, started helping Ruth sell the clothes on eBay in 2004 when they were both in high school.
"Back then to make a post on eBay you had to enter in HTML code, which we had just learned how to do in school," Ellie said. "It was a lot more labor intensive to make one post than it is today."
For the past few years they have been using Etsy, a website like eBay, but intended for art and hand-crafted items. Their store is called "Doll Clothes by Ruth," and they sell the clothes during fall and winter for the holiday season.
The clothes she makes for the dolls are mostly colonial era dresses, to go along with the historical theme of the dolls. She has also made other outfits such as knitted sweaters, shawls and play-suits. Since they are all hand-made, no two items are the same, Ruth said.
"This isn't really a money-making venture," Ruth said. "First it was a way to teach the girls some entrepreneurial skills, but we found a lot of people who love the work I do, and I enjoy making them."
(Continued on Next Page)
Prev Next
Vote on this Story by clicking on the Icon