Selflessness. It's a word that can be associated with so much in this world.
But if you want to see one of the truest definitions, take a trip to the Marcellus Grange on a Thursday afternoon and just do some people watching.
What you'll see is a group of between 15 and 20 women who donate their time and effort to help make the homeless and less fortunate feel loved. The group meets once a week to make various items for the homeless like sleeping bags, scarves, mittens and hats among other things.
The Grange formed in 1882 and has resided at 115 W. Main St. for 80 years. It's a community organization focused on, well, community and volunteerism. The front page of grange.marcellusny.com says it's made up of "families and individuals who share a common interest in community involvement, agriculture, and working together in a family environment."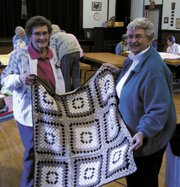 All of the women are retired and the consensus is the time they are donating is worth more to those who receive the items than to the women themselves.
"Doing this for others makes you feel good about what it is you're doing," said 78-year-old Joan Fischmann, a retired graphic artist. "Those who receive the gifts are very appreciative of what we do, and that's what we get out of it. Plus, it's a time for us all to get together and socialize a little."
At around 2:15 p.m., the group takes a timeout to rev up their engines. Each week, a different woman brings in home-baked goods like cookies or muffins and pairs it with a cup of tea.
Mary Widger, 80, is referred to by many in the entourage as the "Fearless Leader," but she doesn't necessarily agree with the title. While she usually organizes everything, she says it's a group effort to accomplish everything.
(Continued on Next Page)
Prev Next
Vote on this Story by clicking on the Icon