Super Bowl Sunday didn't feel the same here this year.
Someone was missing. The city's most prominent bookmaker – George Bedigian – died Jan. 28, exactly one week before the biggest betting day on the calendar. He had celebrated his 67th birthday on Dec. 6.
George was quite the Syracuse character!
In the mid-1950s, when he was an 11-year-old student at Prescott School, he performed a trumpet solo on television's "Original Amateur Hour" with Ted Mack. George graduated from North High School in 1962, joined the Army Reserve and was attending college when a 1966 diving accident at Jamesville Reservoir left him paralyzed from the neck down… for life!
Mathematical mind
That didn't stop George. He used his mathematical mind, photographic memory and passion for sports to forge a multi-million-dollar gambling business. Of course, that meant withstanding law enforcement's constant efforts to shut him down or, worse, send him to the slammer.
That's what happened in 2005 when George was one of three Syracuse men arrested and charged with running a $20.3 million regional gambling business. Then, in late-March 2009, the three were busted again for allegedly operating a $50 million Internet sports betting ring. In all, 12 men and one woman were arrested from Syracuse to Utica to Latham.
Bedigian was charged with enterprise corruption, New York state's equivalent to the federal racketeering law. Bets had been accepted on college sports, NFL and NBA games, boxing, Ultimate Fighting Championships and NASCAR.
George conducted business by phone and computer from his home on Prospect Hill on the city's North Side. In less than two years he personally earned between $3 million to $5 million, according to Albany County District Attorney David Soares.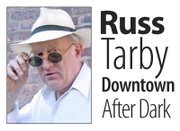 Support at sentencing
In Albany on Oct. 28, 2008, Bedigian pleaded guilty to two counts of promoting gambling, both felonies. He was sentenced Feb. 3, 2009, to one to three years. More than a dozen of George's friends and business associates, some from as far away as Boston and Las Vegas, turned out for his sentencing, according to the Albany Times-Union.
(Continued on Next Page)
Prev Next
Vote on this Story by clicking on the Icon