SYRACUSE — Police say an Oswego County man forced a woman to have sex with him in Syracuse.
The Onondaga County Sheriff's Office reports Arthus Groff, 37, of Hastings, was charged with first-degree rape, first-degree criminal sexual act, first-degree sexual abuse and unlawful imprisonment.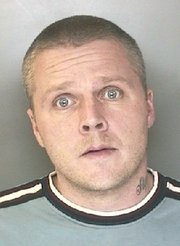 Groff is accused of responding to an adult services advertisement in the Syracuse New Times, which the female victim had placed in the paper. Police say Groff told the woman to remove her clothes, and then accused her of exposing herself to an undercover police detective. The woman told police he then displayed a badge, placed her in handcuffs and told her she was under arrest. He is accused of committing unlawful acts against her, and raping her.
Police found Groff at a residence in Hastings. He's being held in the Justice Center and is scheduled to be arraigned in Syracuse city court Saturday.
Vote on this Story by clicking on the Icon