While we hear lots of noise from the West Fayette Street-Delavan-Lipe Park art initiatives, the Hawley-Lodi neighborhood continues to quietly blossom into a vibrant arts district.
The North Side neighborhood already houses businesses such as ArtRage Gallery, the Syracuse Cultural Workers and SparkyTown restaurant.
And now, it welcomes Sculpture/Culture.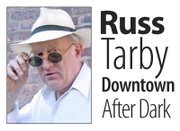 The new art studio – jointly owned by Charles Crafts and Tom Huff at 522/524 Hawley Ave. – hosts an open house from noon to 4 p.m. Saturday, Feb. 4; 314-6912.
Saturday's open house is free and open to the public. The studio will also be open to the public on three subsequent Saturdays, Feb. 11, 18 and 25.
Sculpture/Culture is currently exhibiting Native American art and Haudenosaunee crafts. Huff, an internationally renowned Iroquois sculptor, is now accepting stone-carving students. Classes are scheduled from 6:30 to 8:30 p.m. on Thursdays, and students can utilize the studio on their own time.
"I see my ability to carve and create as a gift from the creator," Huff said, "and it's my responsibility to share that gift."
Huff's roots are in the Deer Clan of the Seneca and Cayuga nations.
As a boy, he began carving stone, wood and antler inspired by the artists at the Cattaraugus Seneca Nation. Now he's a world-renowned stone sculptor working in a variety of stones, styles and themes, traditional and contemporary. He also creates mixed media/found object sculpture. His stunning stone work has been exhibited from New Mexico to old Germany.
In 2010 Huff curated "Tonto Revisited: Native American Stereotypes" at the ArtRage Gallery, and in 2011 he oversaw "Haudenosaunee Elements" at downtown's Everson Museum of Art.
'Some Like It Hot'
As though to affirm that "art" can also be "entertainment," ArtRage Gallery screens the 1959 Billy Wilder comedy "Some Like It Hot" at 8 p.m. Saturday, Feb. 4.
(Continued on Next Page)
Prev Next
Vote on this Story by clicking on the Icon