Retired Morrisville-Eaton English teacher Jay Dunn has been selected as the first executive director of the Madison County Literacy Coalition, a collaborative effort between education, government, social services and community agencies in Madison County.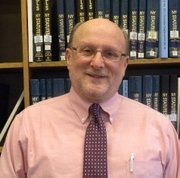 Dunn taught English at Morrisville-Eaton High School for 34 years and retired in June. During his teaching career, he taught a wide range of courses and programs, from reading remediation to Advanced Placement.
He also led a college and career preparation program for high school seniors that provided assistance with college applications and career choices as well as meaningful job shadowing experience.
Through these efforts, Dunn became familiar with many of the agencies, businesses and organizations in the community that he will work with through the Literacy Coalition.
Dunn is a resident of Eaton. He holds a bachelor's degree from SUNY Oneonta and both a master's degree and certificate of advanced study from SUNY Oswego. His wife is a retired English teacher from Stockbridge Valley and his two daughters are graduates of Morrisville-Eaton High School.
The Literacy Coalition formed in 2009 when more than 50 organizations across Madison County – including schools, businesses, non-profit agencies, health care providers and local governments – resolved to improve literacy at all age levels in their community.
The Coalition's first focus area is early literacy (children through third grade), but they also plan to address issues related to older children, adults, families and the workforce.
Madison-Oneida BOCES is a member of the Coalition's Managing Partners Board. Other board members include: Oneida Public Library, Mid-York Library System, CNY Community Foundation, Colgate University, Head Start, Canastota Literacy Tutors, Madison County Board of Supervisors, Madison County Public Health, the Canastota school district and the Morrisville-Eaton school district.
Madison-Oneida BOCES cooperatively and responsibly provides educationally focused programs and services, which enable learners to excel.
The Madison-Oneida BOCES serves students from Camden, Canastota, Hamilton, Madison, Morrisville-Eaton, New York State School for the Deaf, Oneida, Rome, Stockbridge-Valley and Vernon-Verona-Sherrill. Visit us at moboces.org.
Sapna Kollali is public information officer for Madison-Oneida BOCES. She can be reached at 361-5518 or skollali@moboces.org.
Vote on this Story by clicking on the Icon