Skaneateles — Sixth graders learned how to navigate through middle school by being kind to others at a recent morning-long event called "Be Cool, Not Cruel." They were given a clear road map for their journey by high school students who only recently walked the same hallways.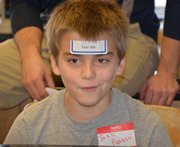 In several large assembly sessions and in small intimate groups, confident and enthusiastic high school students urged the sixth graders to rise above the cattiness and bullying that can be common in middle school.
The Be Cool Not Cruel program has been helping combat bullying in Skaneateles for more than 20 years. Even after 20 years, the program remains fresh and effective, in part because many of the messages (and the problems it tries to prevent) are timeless. In addition, the program is updated to include things like cyber bullying that didn't exist when it began.
High School senior Mike Ranalli, a leader in the program, said that the program also reinforces good messages for the many participating high school students.
Marcy Weed, high school and middle school counselor, said high schools students volunteer for the program, which many of them remember attending when they were sixth graders themselves. The strength, she said, is that the sixth graders get the positive messages from older students that they look up to. The trained high school students and the sixth graders talked candidly about things that matter all through life, and about qualities that make good human beings great.
During a small group labeling activity, sixth graders wore labels on their foreheads (but didn't know what the labels said). They were asked to tell the group what they would want to have with them if they were left alone on a deserted island. While they talked, the group reacted to them based on the label they had on their forehead. The labels said things like "ignore me," "I am smart," "fear me," "I am annoying" and "praise me."
(Continued on Next Page)
Prev Next
Vote on this Story by clicking on the Icon