continued — "We are so happy to be a part of this tradition. Tonight has been great," Karen Eldridge said during a brief rest from assisting shoppers. "Our business has been up all year, and Men's Night Out is a wonderful time for us because we can showcase what we have — and sometimes what we have left."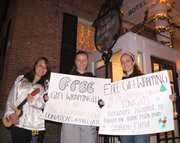 Once gathered at the Lincklaen House, Cazenovia men had the chance to enter a raffle for a state-of-the-art flatscreen television and relax after their HCBD shopping sprees.
As the revelry wound down, residents slowly returned to their homes and looked to hide their newfound presents —before the respective recipients had a chance to sneak a peek.
"My family and I love this place, and love these stores," said Cazenovia resident Kevin Velasco. "Shop locally; it's important."
Pierce Smith is editor of the Cazenovia Republican. He can be reached at 434-8889 ext. 338 or editor@cazenoviarepublican.com.
Vote on this Story by clicking on the Icon