Two weeks and four games into the season, the Cazenovia girls basketball team remains undefeated, ready for some bigger tests against the major powers in the OHSL Liberty division.
At home last Tuesday night to take on Phoenix, the Lakers showed considerable improvement on the offensive side, resulting in a 57-42 win over the Firebirds.
Cazenovia had only reached 39 and 44 points in its first two games (wins over Marcellus and Chittenango), but it did better against Phoenix, steadily producing baskets as it gained a 32-20 lead by halftime.
Continuing to pull clear, the Lakers' margin grew to 49-29 by the end of the third quarter, and while the defense was a bit less stingy, the production made that a moot point.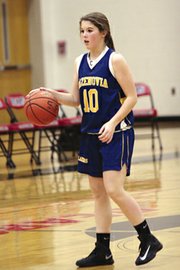 Maggie Carpenter again led the way, pouring in 19 points. Sally Langan, with 11 points, also reached double figures, while Kristie Kleine finished with seven points and Taylor Mimms added six points. Phoenix's Katherine Oliver led her side with 17 points.
It was even less stressful during Friday night's destruction of Jordan-Elbridge, a side far removed from the tough team it proved to be before Molly Hourigan went to Holy Cross.
The Lakers ripped past the Eagles 62-17, a game that saw Cazenovia get whatever it wanted on the offensive end during a 29-3 first quarter. It was 41-3 by halftime thanks to a second-period shutout, and from there the reserves saw extensive playing time.
Carpenter still had time to score 17 points, exactly matching J-E's output. Langan chimed in with 14 points, with Kleine contributing eight points and Mimms again getting six points.
Just before the holiday break, Cazenovia will have a key showdown with Skaneateles at Buckley Gym, which follows a Monday trip to Hannibal.
Vote on this Story by clicking on the Icon