Manlius — Fayetteville-Manlius High School senior Laurel Moffat earned a score of 36 on a recent ACT college admission and placement exam — the highest possible score a student can earn.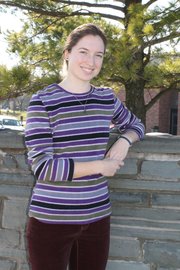 While nationally the actual number of students earning a composite score of 36 varies from year to year, less than one-tenth of 1 percent of students who take the ACT earn a top score, according the ACT website.
In preparation for the test, Laurel took practice ACT exams and completed a practice packet from the counseling center. She also took SAT prep courses that taught her test strategies and timing.
Laurel has applied to six colleges. Her top choice is Cornell University where she wishes to study nutrition and become a dietician.
The ACT consists of tests in English, mathematics, reading and science. Each test is scored on a scale of 1-36, and a student's composite score is the average of the four test scores. Some students also take ACT's optional Writing Test, but the score for that test is reported separately and is not included within the ACT composite score.
ACT test scores are accepted by all major U.S. colleges, and exceptional scores of 36 provide colleges with evidence of student readiness for the academic rigors that lie ahead, according to the ACT website.
Vote on this Story by clicking on the Icon