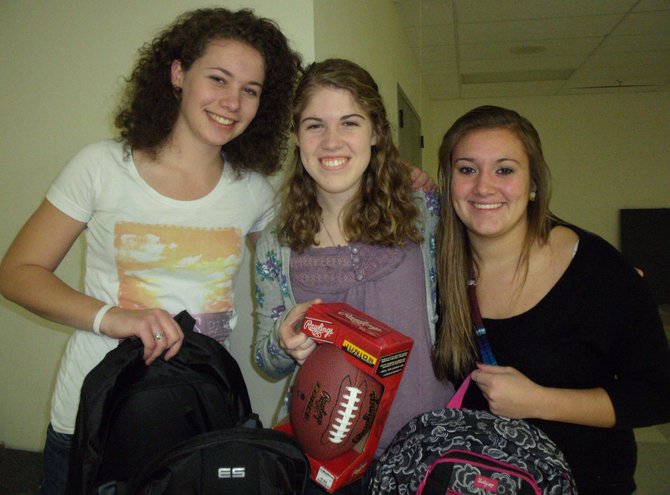 Camillus — The passionate generosity of two mothers in Pittsburgh is contagious.
When Kelly Rohrich and Ellen Thomeier let their hearts be moved by the plight of children suddenly placed in foster care because of abuse or neglect, their compassion turned towards easing that transition.
In 2005, they began filling backpacks with comforting items and basic care needs to give solace in the confusion of sudden uprooting. Often children are taken from hazardous situations to foster care with only the clothing on their backs. Even within the foster care system, it is not uncommon for a child to be moved multiple times. Imagine the feeling.
Emily Wood's personal contact with the project came through her connection as a college roommate to the daughter of one of the founders. In Emily's position as Faith Formation Director at Holy Family, the opportunity rose for other young people to share in the endeavor.
The enthusiasm is spreading. Thirty-five young people in Life Teen committed to filling as many backpacks. They worked together in seven teams of five, each with a senior leader.
Choosing the "theme" of the backpack, each group customized the gift by filling it to suit a particular gender and age, from babies to high schoolers. Each pack includes a comforting item, such as a football for a male teen or a soft blanket for a toddler. Each also contains basic care needs from infant bottles to toothbrushes to notebooks. There may be crayons and coloring books, pajamas or toys.
Not only did the Pittsburgh endeavor extend to Holy Family teens, many of whom took work to personally raise money for the project, but also others graciously became involved. The West Genesee High School Social Studies Department committed to assembling twenty-four backpacks. The Holy Family Elementary School raised $230 for backpack items by sponsoring a dress-down day and collected items to place in the packs, as well. A cross-country team sent items and funds. In addition, the Holy Family basketball program planned to get involved. Teachers and neighbors were moved to be of assistance.
(Continued on Next Page)
Prev Next
Vote on this Story by clicking on the Icon