Baldwinsville — Christmas is right around the corner and nearly 165 families have registered for holiday assistance from the Baldwinsville Christmas Bureau. That means our Christmas Bureau committee and volunteers are already hard at work.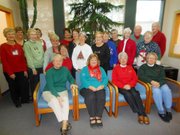 As you may know, every family receives a supply of food staples and the makings for their Christmas dinner, toys, household and personal care items, clothing and supplies for babies and filled stockings for the children. We will also be delivering 115 holiday gift bags to elderly shut-ins and 20 developmentally disabled residents of group homes.
There is a tremendous need to help struggling families here in our community to have a brighter holiday and your donation will do just that. Food is always needed as well as new toys and books for children. There are many requests this year for household and clothing items also. If you would like to donate a specific item, please call Nancy Porter at 380-1335. You may also call the Baldwinsville Volunteer Center for more information at 638-0251.
We depend on the donations from area schools, churches, businesses, community service organizations and groups and individuals to help us in this annual labor of love to share with those less fortunate here in our Baldwinsville community.
The Baldwinsville Christmas Bureau is located in the former Rite Aid Store in River Mall on Downer Street and will be open through Dec. 15 to accept your donations during the following hours: 10 a.m. to 4 p.m. Monday, Wednesday and Friday; from 10 a.m. to 8 p.m. Tuesdays and Thursdays; and 10 a.m. to 2 p.m. Saturdays.
Vote on this Story by clicking on the Icon