Cazenovia — Although many trees withstand the tests of time, all fall eventually. For two Maple trees in Cannon Park, their time has come.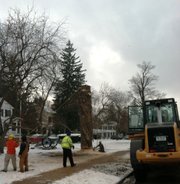 Early in the week of Nov. 28, workers carefully cut down the two trees, which are believed to be more than 150 years old, and transformed the stumps into large piles of sawdust. The Cazenovia Village Board announced the removal would be occurring at its November meetings, citing the trees' old age and related safety risks. Saplings are planned to be planted in the park come spring, village trustees said.
"The trees are obviously extremely mature, and have been on the watch list for several years. It is never easy to see our big friends go, but they are living things and sadly do not last forever. When they start to pose a risk, especially in an area which is as heavily used by the public as Cannon Park ... a municipality is mandated to manage that risk," said Deputy Mayor and Village Tree Commissioner Amy Mann. "Extensive measures were taken to prolong the lives of those trees, but I am afraid we [did] everything we [could]. With the increase in severe windstorms lately, the deadwood and structural weaknesses in the trees are of serious concern. When we do the replacement plantings, we will make every effort to follow the historic placement and species of the trees."
Albany Street and Cannon Park are the most recognizable and historic public spaces in Cazenovia, and while the exact age of the trees is unknown, a painting housed in the Cazenovia Public Library dates the Maples back to the 19th century.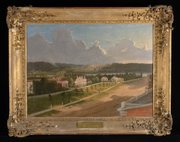 An oil painting titled "General Hough's house on Albany Street, Cazenovia," done by William Boardman around 1850, shows the familiar row of then-saplings along the village's main street. The piece was given to the library by Hough's grandson Augustus C. Stevens.
(Continued on Next Page)
Prev Next
Vote on this Story by clicking on the Icon