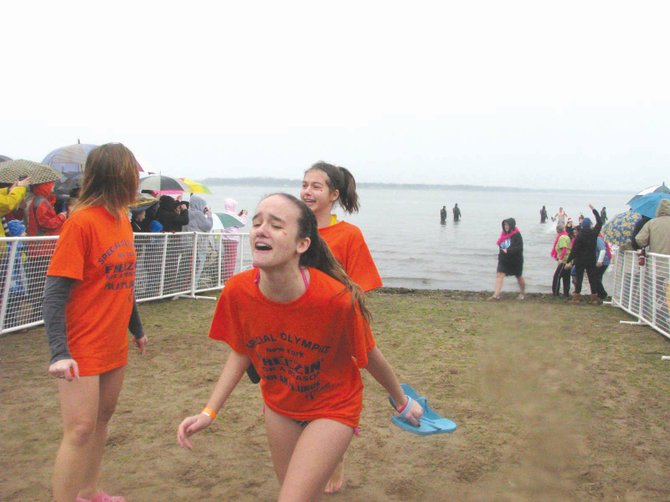 continued — "The thing with Special Olympics is that none of our athletes pay to play," said NYSO Development Director Cassandra Rucker. "We're entirely volunteer-driven and fundraiser-driven. In New York, we have 55,698 athletes, 30,000 volunteers and 50 staff, so we're a very volunteer-driven organization. For our athletes, this is their community. It's physical fitness. It's friendship. When people meet our athletes, they can't help but want to be a part of it."
In addition, the athletes benefit from their participation in the organization for years to come.
"Our athletes are five times more likely to have a job because of Special Olympics training, not just the physical aspect, but the mentoring part, too," Rucker said. "They turn around and find volunteering jobs throughout the community. Those are things that are the outcome of things like the Polar Plunge."
The Plunge is part of the Law Enforcement Torch Run, the police community's effort to raise both money and awareness for Special Olympics. The year-round campaign includes golf outings, "Over the Edge" events in which law enforcement personnel rappel off the sides of high-rise buildings, "Law and Orders" in which they work with Applebee's Restaurants as wait staff, runs and, of course, Polar Plunges.
"The law enforcement community put a lot into making this happen," Rucker said. "They've raised more than a million dollars for our athletes."
In addition to the law enforcement community, everyday volunteers and contributors help support the mission of the NYSO. This year's Polar Plunge was successful in part because past participants helped spread the word and draw more interest.
"Last year we had 320 [plungers]," Rucker said. "This year we had more than 600. We're at over $80,000. Last year we raised around $60,000."
Rucker said planning has already begun for next year's event in order to capitalize on this year's success.
Vote on this Story by clicking on the Icon