continued — She said it's also a chance for them to give back to the community.
"The community is very supportive," she said. "We tend to get invited back for the same events each year and always get many positive comments when people hear the group. The students view these performances as a service they can provide."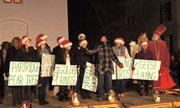 The singers are very dedicated, she said, and fun to be around, which makes her job all the more rewarding each year. Most of the students have participated in the NYSSMA solo festival and will attend Area All-State at Ithaca College this winter. Two of them, Jessy Silfer and Kyle Johnson, were selected to sing at NYSSMA's All-State festival in Rochester.
The Chamber Choir has prepared several a cappella selections, from various styles, cultures and time periods, to sing around Cazenovia this holiday season. They will sing 16th century madrigals and some contemporary pieces, including jazz. Some songs are holiday-themed, while others are simply fun and festive sounding.
In the past, the group has performed at the Lions and Rotary clubs' holiday dinners, Elmcrest Children's Center in Syracuse, the Cazenovia High School Senior Tea and the Cazenovia Senior Association Holiday Luncheon, to name a few.
Ned Campbell is an editor at Eagle Newspapers, a Chamber Choir alumnus and the son of Teresa Campbell. He graduated from Cazenovia High School in 2006.
Vote on this Story by clicking on the Icon