Cazenovia — The Cazenovia Junior High Drama Club recently performed "Annie Jr." in the Cazenovia High School Auditorium for local residents three times during the weekend of Nov. 9.
"Annie" is a heartwarming story, set in the 1930s, about an orphaned girl who wishes to find her "forever family."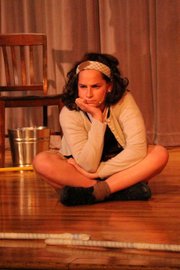 Annie (Caeli Carroll) longs to be with her birth parents who promised to come back for her some day, but has been stuck in an orphanage with the mean Caretaker Miss Hannigan (Lucy Connor) for years.

Annie gets a lucky break when Oliver Warbuck's assistant, Grace Farrell (Faith Gara), comes to the orphanage for an orphan to spend Christmas with the millionaire.
Although surprised that Grace returns with a girl instead of a boy, Warbucks (Elijah Wellington-Harper) falls in love with Annie and starts planning to adopt her, until Annie explains that her family promised to come back for her.

When Warbucks spares no expense in a massive search for Annie's Parents, Miss Hannigan, her sleazy brother, Rooster (John Henry Light-Olson), and his girlfriend, Lily (Emily Mahoney) conspire to claim Annie as their daughter to get the reward money.

When their identities are discovered and it's revealed that Annie's real parents are dead, Warbucks adopts Annie and she finally gets the "forever family" she'd always wanted.

Annie's fellow orphans were played by Julia Barrett, Olivia Catania, Sadie Coleman, McKinley Dennison, Lizzie Druke, Mackenzie Gregg, Megan Henderson, Morgan Hodinger, Brenna Hughes, Katie Hopsicker, Janie Kempf, Siobhan Kiernan, Molly LaHart, Hannah Scanlon, Megan Schwartz, Kirsten Underwood and Allie Vanetti.
Warbucks' staff included Chloe Adler, Jack Bookbinder, Annika Bruno, Tim Burr, Molly Carges, Olivia Carroll, Geoff Christensen, Carson Clonan, Julia Gavilondo, Shawn Gifford, Katelyn Hale, Jamie Joseph, Tony Koppers, Steven LaFever, Eric Liddell, Morgan Maliga, Helen Purcell, Mairin Rogers, Joanna Seeley, Zachary Simms, Danielle Tedesco and Ryleigh Tilison.
Vote on this Story by clicking on the Icon